Black Company books info

News:

7/18/99
From rec.arts.sf.written:
- P Nielsen Hayden wrote, "SOLDIERS LIVE is on my desk right now, having just arrived from Glen. We'll publish it next year."
Many thanks to J. S. Karp for passing this on and getting me back to updating this.

3/26/99
Eric Herrmann has been nice enough to create a new Glen Cook email discussion list.
You can subscribe by sending an e-mail message to majordomo@xmission.com with " Subscribe GlenCook-Fans " in the body of the message.

3/25/99
Its official, "Water Sleeps" is out in stores, and it has been for a little while. You can purchase it at your local book retailer, have them order it for you, or buy it online from amazon.com right here.

2/21/99
While we all wait for the next Black Company book, "Water Sleeps", to come out in early march, you can enjoy a couple of pages now!
Don't fear, this is not a spoiler of any sort, it contains only the first couple pages from the book.
My thanks to Gary for bringing this to my attention.

2/6/99

Here is the cover for the long awaited "Water Sleeps".
Also here is the Kirkus rewiew:
"This outing for the Black Company-either the eighth or the ninth, depending on how you count-completes the Glittering Stone trilogy (She is the Darkness, 1997; Bleak Seasons, 1996). Most of the usual crew return: Goblin, One-Eye, the female warrior Sleepy (she's also the new annalist/narrator), the witch Ky Sahra, 14-year-old Tobo (son of former annalist Murgen), and the Company's pilgrim/swordmaster allies, the Nyueng Bao. Murgen, Sahra's husband, is now confined by supernatural means beneath the Glittering Plain, along with the Captain and others, but his spirit's free to roam and spy for the Company. So, how can the Company free their companions from confinement while avoiding destruction by the various gods, goddesses, demons, wizards, etc., who are their adversaries?"
Once again, thanks to FaDe for hunting this info down.

11/16/98
Here is an unconfirmed, but cool, piece of news...
According to a note from Glen Cook which came with some magazines ordered from him, the 4th Glittering Stone title is "Soldiers Live (And Wonder Why)" or at least that is the working title.
Special thanks to Steve for sending this one over.

10/27/98
TOR has added "WATER SLEEPS (Glittering Stone #3) by Glen Cook" to its offical new release schedule. The hardcover edition will be coming out in March 1999.
Check it out at Tor Jan. - Aug. 1999 New release schedule.

10/2/98
Well TOR finnally gave us some info about the next Black Company book...
The next book will be called Water Sleeps ("water sleeps, but your enemies don't"), and should be out in early 1999. It will be the third book of the "Glittering Stone" sequence -- but , contrary to earlier reports -- is not the last book in that sequence. There will be a fourth book. We don't yet know its title, and we don't know whether that will be the end of the Black Company.
Check it out for yourself at Glen Cook's TOR books FAQ
And a special thanks to FaDe for pointing this info out.

If you find out any Black Company news, please E-mail me.

---

For those of you who are who have expresed an interested in obtaining copies of the Black Company books, you can get them from Amazon.com by cliking on the desired book.
The Black Company Outpost has become an Amazon.com affiliate. For each book purchaced through one of these links, I recive a small commission. This is the only means I have to be riembursed for the work I put into the Outpost. Thanks
Amazon.com also has reviews by the readers of his books. Check them out.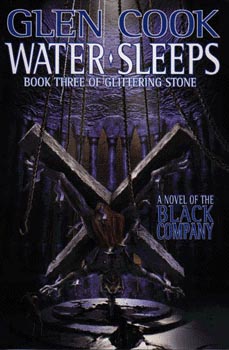 Water Sleeps

If you are interested in getting any of Glen Cook's other work, you can get them from Amazon.com.